I have a couple of new addictions. One is Pinterest and one is
Young House Love
. Isn't it fun when your worlds collide? YHL announced they were holding another Pinterest challenge and I decided to join in. I have a spotty history with Pinterest. I am very good at pinning things and very bad at actually making them or making them well. Anyone remember the
glitter Xmas ornaments
or the
paint chip coasters
? The ornaments were good but the coasters...not so much.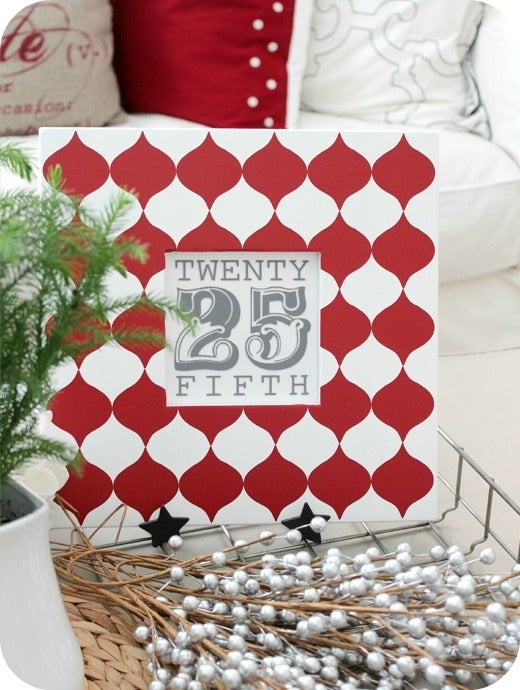 Basically, the point of the challenge is to take something you pinned on Pinterest and interpret it for yourself. I found
this frame
I had pinned from
The
House Of Smiths blog
. I loved the color and the shapes and I figured I could make this quite easily.
I gathered up my coupons and went to the craft store where I bought 2 wooden mirror frames and brought them home. I spray painted them white and waited for them to dry. I have pictures of all of this but Blogger doesn't want to let me post them. I"m sure you can imagine it because its pretty self explanatory.
I also knew I would have to buy my design. A more talented person would have just painted one onto the frames but thats not me. I discovered all sorts of possibilities in the scrap booking aisles where I don't usually hang out. I bought a few options but ended up going with these felt stickers in green and black. I wanted red but they didn't have them in a design I liked.
Here are the finished products. I decided to go horizontal instead of vertical with the stripes but I can hang them either way once I find a spot for them. The good thing about these is that they are adjustable because I can see the top green stripe needs some help.